Thursday, January 25, 2007
MY FEBRUARY CHALLENGE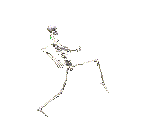 February wasn't a difficult challenge for me to set to be honest.
I know the key to weight loss is exercise and healthy eating. I have been sticking to the healthy eating but have done no exercising whatsoever, never have been the exercising type!


So this months challenge is to exercise 3 times a week. I know some of you exercise everyday but I am so unfit and want to ease myself into it - I don't think there is any point on setting a higher target of 4 or 5 times a week as I would lose interest and of course be exhausted all the time!


Wish me luck as this is going to be a tough one for me but am determined to see it through, with your help I know I can do it!
Labels: February Challenge, Joy
Posted by JOY :: 5:22 AM :: 0 Comments


--------------------oOo--------------------