Tuesday, January 23, 2007
YOU ARE DOING GREAT!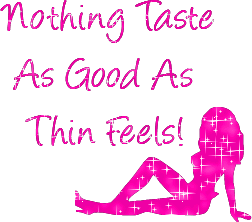 Hi Challengers,

I have just been catching up on how everyone has been doing and it is so encouraging to read that you are all getting on so well.

I have been moving countries between Christmas and New Year from Dubai back to Ireland and have not had internet access until now but I have been doing my challenge faithfully.

My challenge for January is to:-

1. Drink more water
2. Have breakfast (for the first time in my life) and ...
3. Count Calories to lose weight

I have to say that so far I am doing great! Have lost 7 pounds to date. I feel much healthier and less tired and lazy. I could never have done it without Michelle challenging me! I am always up for a challenge, so thank you Michelle I get the feeling you are the instigater in changing my life!

I feel that I have missed out in supporting you all and getting to know you all and your individual challenges but plan on getting stuck in and supporting you all as much as I can. I plan on keeping my other blogging friends updated on my blog MY BLOG

Will post more in the next few days but hang in there everyone - you are all doing fantastic!

Together we can do it.
Labels: January Challenge, Joy
Posted by JOY :: 4:32 AM :: 1 Comments


--------------------oOo--------------------